FOL-3015AJ
Fiber laser cutting machine
The revolution of laser cutting. Shift to high-energy efficiency era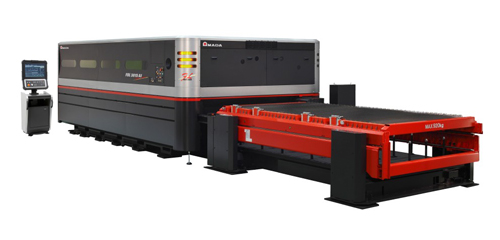 Amada, as laser machine manufacturer, has successfully developed Fiber Laser Oscillator for the first time in the world to process range expansion as well as for ecology.
Amada Fiber laser has solutions for 'High speed cutting', 'Less power consumption on cutting', 'Less power consumption on idle time', 'Expansion of material range', 'Less maintenance cost' and for customer's success of process range expansion.

■ Features(1) : Improvement of processing performance of High reflective materials /


Difficult-to-cut materials

Brass, Copper and Titanium is also possible to be cut

■ Features(2) : Low running cost

Heat exchange efficiency on Fiber laser is far higher than that of CO

2

, which is less power consumption if same output power
No laser gas required

■ Features(3) : Nozzle changer / Oil shot / Cooling cut device as standard accessory

Achieving setup time reduction & continuous processing

■ Features(4) : Rapid and high quality maintenance response

The regular maintenance of mirror cleaning, mirror change like CO

2

is not necessary due to No optical parts inside the oscillator.
Amada service staff can maintain after service of both machine and oscillator because of own-developed oscillator.
Processing samples
Material : AL5052
Thickness : 1mm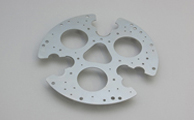 Material : SS400
Thickness : 16mm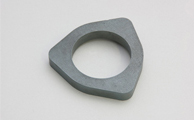 Material : Copper
Thickness : 3mm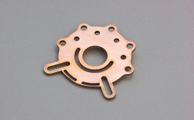 Material : Aluminum
Thickness : 16mm
excited laser light in the oscillator fully-filled with laser gas is extracted by output mirror and transmitted to process head by multiple reflective mirrors.
Fiber laser oscillator is monolithic structure, which does not have cavity resonator at oscillation part, and output power from multiple units are combined into 1 fiber cable and transmitted to laser processing head.
Specifications
Rapid feed rate
(m/min)
X × Y simultaneous

Maximum processing size(mm)
X × Y

Oscillator

Maximum sheet thickness
(mm)

FOL-3015AJ

340

3070×1550×100

AJ-4000
(High power:
4kW)

Stainless steel : 18
Aluminum : 16
Mild steel : 22
Copper : 8
Brass : 8